With influences reflecting a lifetime in England, colonial Malaya, Berlin, and twenty years in the US, Bob Gale's career encompasses a variety of media: animator, artist, filmmaker, illustrator, political and satirical artist. After writing and animating satires for BBC2, Bob (known at that time as Robert Gale) went on in the early 1970s to collaborate with William S. Burroughs to illustrate 'The Book of Breething.'
In 1976 he moved to New York City, to begin a 22 year association with The New York Times, for whom he produced literally thousands of political drawings. Living downtown in SoHo, Bob joined the Steel Cello Ensemble, touring experimental opera in the north eastern USA and Berlin. Before moving to West Berlin in 1989, Bob founded INX, an artist-controlled editorial syndicate, producing political art for publication all over North America. For 20 years he contributed to many of the major American newspapers and monthly magazines, as well as work for book publishers including Penguin and Viking. Partly inspired by the architecture of New York and Fritz Lang's 'Metropolis', it was at this time that Bob invented Uralia. Like LP Hartley's sense of the Past being 'a foreign country,' Uralia is an imaginary land conceived building by building, street by street out of his own head, an alternative two-dimensional world with its own 'completely different' architecture, laws, transport system and way of life.
Before moving back to Europe, Bob exhibited paintings and drawings in Cambridge, MA and elsewhere in the US. Bob moved to Germany in 1989, just in time to witness the fall of the Berlin Wall, for which he was commissioned by the Berlin Senate to make a set of landscape studies. In 1999 Bob held a major exhibition of work in Berlin, commemorating the ten year anniversary of the fall of the Wall. For the next ten tears Bob roamed the world from Germany to Kenya, Tanzania, there and back again to New York, illustrating his own travel journals, as well as drawing and painting for exhibitions in Berlin and the US. Since his return to England Bob has been living and working in Chagford, Devon. Here he has been involved in ecological issues, producing drawings for local and national community groups, and in 2007, commissioned by The National Trust to produce a series of drawings and continuing to create drawings and paintings, both for exhibition and for a variety of publications. In 2007 Bob illustrated 'In search of Kazakhstan,' by Christopher Robbins, [Profile Books, London].
A brief history of Bob
Born 1948 Hampshire, England. Childhood in Malaysia and England. The family later moved to the Middle East, settling on the island of Malta in 1964.
Educated at schools in England, Malaysia and the Royal Naval School on Malta.
1966-67 Brighton College of Art, England
1968-72 University of Leeds, England BA (Hons) Fine Art
1972 First Animation Film screened at the Edinburgh International Festival.
1972 Joined BBC Television as Artist/Film-maker. First series of animated satires broadcast on BBC 2.
1972 Began collaboration with William S Burroughs on The Book of Breeething. Published Berkeley California Bluewind Press 1975.
1976 Arrival in the USA. First drawing published in The New York Times.
1977 Series of video fantasies completed for the BBC in London (Beyond the Looking Glass BBC 2). Eurovision Award for experimental work.
1977 Moved permanently to New York. Regular contributor to The New York Times editorial pages until 1998.
1978 Drew and performed settings for Brecht's Galileo, Columbia University.
1980 Produced and performed Weltschmerz, an experimental opera, with Robert Rutman's Steel Cello Ensemble, New York City.
Founding member and director of INX, the first artist-owned editorial art syndicate in the USA, producing weekly independent political comment for more than forty newspapers.
Became a regular contributing artist to 'The Progressive' magazine for the next 20 years, during which his work appeared in many publications in the USA including: TIME magazine, The Washington Post, The Boston Globe, The Chicago Tribune, The Atlantic Monthly, Penguin Books, Viking Books, Chronicle Books and UN publications.
1981 Exhibition of Uralia art at the Portland Art Building, Portland, Maine.
1984 First of many journeys to Kenya, East Africa. Kenyan paintings and Journal based on Lamu Island.
1987 Exhibition of New York Times drawings at the Brinkerhoff Gallery, Cambridge, Massachusetts.
1987 Journey to Western Isles of Scotland, Hebrides Journal.
1988 Moved to Cold Spring on the Hudson River, New York. First American Landscapes.
1989 Moved to Berlin, Germany. Commissioned by The West Berlin Senate to make a set of Landscape Studies of the Berlin Wall (Berlin Senate Collection). This period chronicled in the Berlin Journals.
1990 Mauerstuck, a large mural painting created in performance with the Steel Cello Ensemble at Die Pumpe Schoenberg Art centre, West Berlin.
1991 Returned to the USA, Cambridge, Mass. Storyboard for 'Paradise' (Disney-Buena Vista), Director Mary Agnes Donahue.
1991 Landscape painting Monhegan Island, Maine, USA.
1993-4 Winter: Painting Lamu Island Kenya and Lake Tanganyika, Tanzania Journal. Extracts published November 1 994 Issue Travel and Leisure.
1994 Maine Landscapes exhibited at Kessler Gallery, Miami Five British Painters.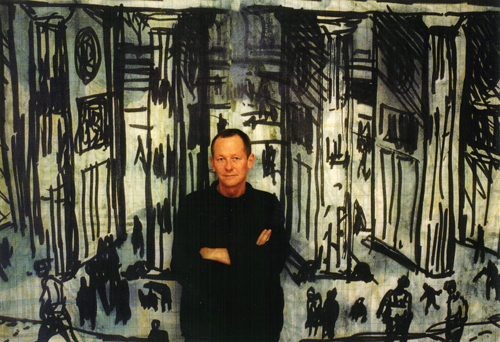 1996 Njoro Naibor Journal Kenya, Limited edition Bruno Press Cambridge, Massachusetts.
1999 "Ten Years After" Berlin Exhibition of 1989-90 paintings, prints and drawings marking the 10th anniversary of the fall of the Wall.

1999 Somewhere in the Brain Forest (Drawings and Text) Limited edition published in Berlin.
2001 Return to UK (Chagford, Dartmoor). Involvement with ecological issues, producing drawings for local and national community groups.
2003 Illustrator Composting For All, Nicky Scott (click here to view on the Green Books website).
2006 Illustrator Edible Gardens, Rachel Sykes (Southgate Publishing).
2007 Series of Ecological Drawings commissioned by The National Trust for reproduction and display at visitor centres.
2007 Illustration and maps for In Search of Kazakhstan by Christopher Robbins (Profile Books – click here to view it on Amazon)

2008-9 A series of Dartmoor landscapes (oils on canvas).
2009 "A Glimpse From Four Decades" – a retrospective exhibition at the Big Red Sofa in Chagford, Devon.